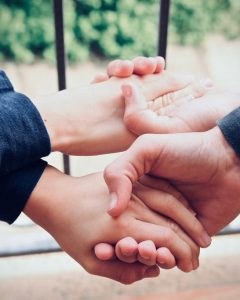 If you're feeling hopeless, you must remember that help is always available. You are not alone.
Finding the help you need may feel scary, but you owe it to yourself to get it.
It doesn't matter who you are or what's happened in the past — you are loved and you are important. Don't let suicidal thoughts fool you into believing otherwise.
If you feel lost, scared, or that you have nothing to live for, please reach out to someone. A trusted friend, family member, or even acquaintance can provide a listening ear, a shoulder to cry on, or a hand to hold, and help you find the professional help you need in order to find the peace and joy that you deserve in your life.
If you don't feel comfortable reaching out to someone you know, there are still plenty of ways you can find support.
For Immediate Help:
Call the National Suicide Prevention Lifeline at 1-800-273-TALK (1-800-273-8255). A skilled, trained counselor at a crisis center in your area is available to speak over the phone or chat with you online 24 hours a day.
Visit your local emergency room or call 911.
Contact your primary care physician or mental health care provider, who will personally help you or immediately put you in touch with someone who will.
For Long-Term Help:
Reach out to a new therapist or contact a support group.
Build a support network: Join an interest group, start a new hobby, or volunteer with an organization that is meaningful to you. You can also build a community at work, school, church, on a team, or in a club. Establish a trusted group of friends and family, and stay connected with people who are positive, supportive, and non-judgmental.
Use your support network: Be open and honest with your circle about what you're feeling, especially during tough times. Try to keep an open mind when someone you trust offers you support or advice, and try to express appreciation for the love and support you receive.
Socialize with your confidantes. They'll help you keep your environment safe and supportive, and they can help you find professional support when you need it.
Make a safety plan: Recognize your own warning signs, and find healthy coping strategies that work for you when you're feeling overwhelmed.